Perth is one of the world's prettiest and most liveable cities with so much to see and do. From awe-inspiring nature and wildlife, white-sand beaches and ancient waterways to inspiring culture and bountiful feasting, Perth offers luxury accommodation, lively events, waterfront restaurants, nightlife, shopping and unique cultural experiences.
With the nation's longest coastline and sunniest capital, city of Perth, Western Australia is a place to recharge your spirit and leave the everyday behind. Explore the majestic landscapes with supernatural contrasts of color and texture, see bubble gum pink lakes, horizontal waterfalls and the world's oldest and largest outdoor art galleries. Swim with gentle white sharks and humpback whales over the world's largest fringing coral reef. With 19 stunning beaches within easy reach of the city, be sure to experience a cool drink or fresh seafood as the sun sinks slowly into the Indian Ocean. 

Look out for Aboriginal walking tours, river cruises, public art, pop-up events, and let passionate local guides reveal Perth city to you on a walking, waterbike or segway tour. Indulge in amazing food and drinks creatively prepared at the alfresco bars and restaurants on the Swan River. Visit Yagan Square, a popular community space that celebrates Western Australia's Aboriginal heritage. Don't miss the spectacular WA Museum Boola Bardip and Art Gallery of WA. Just across the river is Crown Casino and the epic, 60,000-seat world-class Optus Stadium.
From Black perigord truffles, rock lobster to premium wines. Strap in for a culinary adventure where local produce shines and restauranteurs deliver world-class foodie experiences from north to south.
Explore aboriginal agriculture practices and sample different bush tucker fruits, nuts, seeds and herbs with the Bush Tucker Talk and Tastings tour. Go on a wine tour through the world-renowned Margaret River region or tuck into paddock-to-plate eating, picking up local delicacies at market stalls in the Swan Valley and experience creative dishes lovingly prepared.
Explore Western Australia's many fascinating museums filled with history and artefacts of rich culture, landscapes and past. A celebration of our rich Aboriginal heritage, WA Museum Boola Bardip in Perth's Cultural Precinct takes a unique people-first approach to curating exhibitions.
In Fremantle / Walyalup, two museums dive into the fascinating maritime history of life along the coast – the WA Maritime Museum and WA Shipwrecks Museum. Elsewhere, explore museums sharing boom-and-bust gold rush tales, natural and local history, convict life and more. It's all waiting to be discovered.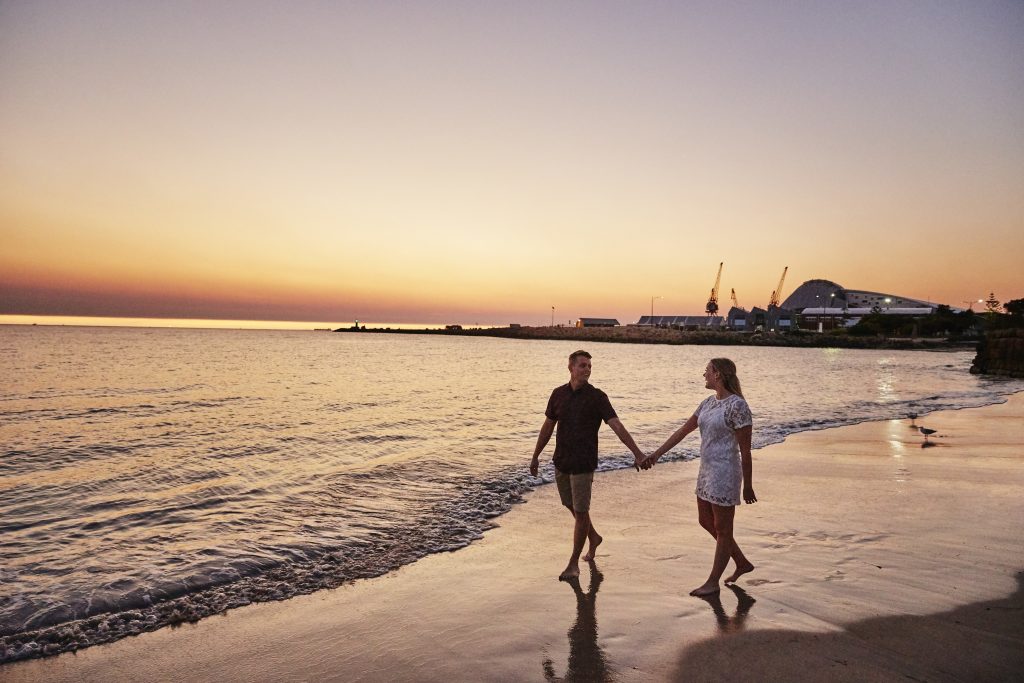 One of the best perks about living in Perth is its stunning coastline with crystal clear water and gleaming white sand. Join the locals at Perth's favourite beaches – The Cottesloe or Scarborough beach and catch an unforgetting sunset.
A magical and whimsical world of forest creatures awaits – Thomas Dambo's Giants of Mandurah / Mandjoogoordap, created by internationally acclaimed Danish artist Thomas Dambo. Towering up to five metres high, Dambo's artworks are an evocative, playful and gentle reminder of the environmental impact humans have had on the earth. Each sculpture is carefully handcrafted from recycled, mostly locally sourced, timber.
If you're travelling around the Perth metropolitan
area, it is highly recommended that you download the free Transperth app. With this app, you can:
Find the next services from any bus stop, train station or jetty
Plan your journey and view it on a map
Track your bus, train or ferry in real-time
Save your favourite journeys for quick
access to timetable information
View service disruptions and fare information
Set up push notifications to receive alerts if your service is disrupted.
When travelling with Transperth, you have the option to buy a cash ticket, or a SmartRider card. As the Transperth network is integrated, either can be used across all train, bus and ferry services.
These are the cheapest and most convenient way to travel with Transperth, giving you a 10% discount off the cash fare. SmartRiders are reusable, non-refundable and can be purchased at a Transperth InfoCentre or from one of the many Retail Sales Outlets across Perth. A Standard SmartRider costs $20, giving you $10 of travel.
These can be purchased from ticket machines at train stations and ferry jetties, and from bus drivers.
In addition to single trip tickets, there are also cost-saving DayRider or FamilyRider tickets available for
groups that allow a full day of travel. 
For over-the-counter service and information, you can visit InfoCentres at
the following locations:
Elizabeth Quay Bus Station
Perth Busport
Perth Station
Perth Underground Station